This is Shark Tooth Beach, the famous part of Jekyll Island.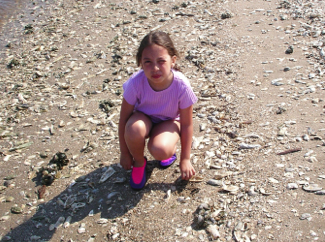 I remember this day like it was yesterday!  We had so much fun collecting shark teeth together.  We collected about 60 teeth that day.  That day it was just Grandpa Don, Danah Grandma Lisa and me.  We went kayaking and everything fun, going to shark tooth beach.  I had so much fun it scares me that I still remember that morning to the afternoon!
Note: Fossilized shark teeth are dredged up from the bottom of the Intercostal Waterway and deposited along the shore with all the tailings from the dredging operation.  Over time, rain washes some of the soil away and the teeth appear on the surface.  A short stop on one of these beaches turned into a memorable adventure.