August 14, 2009: Day Five

I awoke at five o'clock, feeling much better.  It looked like we would have another fair weather day.  We ate breakfast and sipped coffee (at least Gaetan and I did.  Bruce and Alan are tea drinkers who seldom drink coffee.), then broke camp and packed our boats.  We were on the water by 8:20. 

The weather at the campsite behind the island at Tidee was calm, but as we paddled out into the fjord, the wind picked up.  We had been told that the next section of the trip could be difficult.  Up ahead the fjord would narrow and make a hard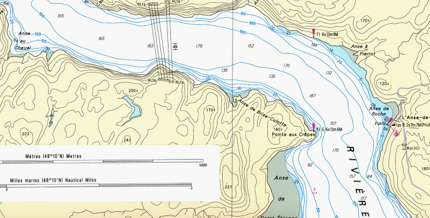 right turn, followed by a hard left.  A combination of outgoing tide, fluky currents, and steep rock walls, combined with wind could make for an interesting passage.  As we entered this section, the wind came out of the northwest, initially on our rear port side quarter, then moving to directly behind us and finally to the rear starboard quarter as we followed the turn in the fjord.  The waves were not big, but they were very close together and very confused.  It felt like I was paddling through an agitator washing machine, with seas coming from any and every angle, but mostly from behind. 
I was regularly taking water over my deck, but was having no problem handling the conditions.  In fact, I was having a good time.  That wasn't true for
Deep Survival
by Laurence Gonzales which had put him on edge a bit – see the review in the
Adventure Book Reviews
section of this site).  Bruce was up front.  If he was concerned, I didn't know about it.  But Gaetan was miserable.  He and I were paddling together and I shot a lot of video of him on this leg.  Gaetan is normally a relaxed paddler, but as you'll see if you view the video, his body was stiff, with his paddle held high, seldom using torso rotation as he paddled. 
About this time a wave hit me on the port beam and rolled my boat up on its starboard side.  I should have braced, but somehow my right hand slipped off of the paddle.  I can't roll and neither can the rest of my comrades (Well, Alan has rolled a few times, but it's not something he could rely on.) My internal voice said, "Boy, you are going for a swim!"  Instinctively, I threw my body toward the high side, did a hip snap and somehow brought the boat back level again.   I was still having a good time.

As we rounded the worst of the turn and entered a straight section again, Bruce noticed a deep bay with a protective island in its center.  He directed everyone to follow him into the bay to take shelter and wait out the wind.  We pulled into reeds in shallow water at the back of a huge piece of rock where it was calm and warm.  One by one we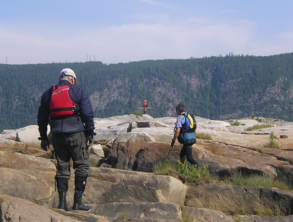 wandered up to the front of the rock, which was high above the fjord, with Bruce in the lead.  Bruce and Alan, and sometimes Geatan, stood watch on this high point for some time, watching for the wind to ease.  There was no guarantee that this would happen any time soon. In fact conditions could worsen.
At some point we all had a snack and some water as we waited for a turn in the weather.  I wandered back to the boats to be sure they were not being left high and dry by the falling tide. Then Bruce spotted a group of six or more double and single kayaks making for our shelter.  I didn't see them at first from my position at the back of the island, but soon they rounded the corner and began pulling up next to where I stood next to my own boat. 

The first kayak was a double with a pretty young woman and her equally handsome husband aboard.  She started to address me in French.  I made a gesture and replied in English and she responded in English.  I learned she was from Montreal (most folks from Montreal are bilingual.  Not so from Quebec City.)  The group was on a short paddle from a family camp on the east side of the fjord and was seeking shelter here, just as we had.  (The kids were in there own activities back at camp.) 
As we talked, the other guys began to join me.  She asked if I would take a picture of her and her husband.  Of course, I said yes.  Then I asked her to take a picture of us,
Refugees from the storm.  That's "Neoprene Girl" on the left.  Photo by B. Romanchak
which she did.  All of us found her very charming.  We never got her name or a picture of her, accept from a distance.  When any of us mentions meeting her she is affectionately referred to as "Neoprene Girl" because she was wearing a black neoprene wetsuit.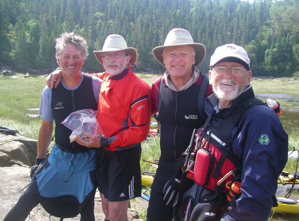 After about an hour the wind had indeed subsided, so we boarded our boats and headed back out onto the fjord.  Checking the map, we identified a small village with a
Photo by "Neoprene Girl".
marina, southeast across the fjord at Anse de Roche.  We decided to go there looking for a pay phone (no cellular service on the fjord).  Anse de Roche was just visible as we headed across to the other side.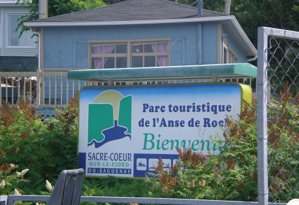 The crossing was quick and uneventful after our bout with wind and waves earlier in the morning.  We had to hunt around for a landing, finally landing in rocks on the south side of the marina.  After lifting the boats to a safe location, we went looking for that pay phone.  We found one on the side of a quaint restaurant.  While Gatean and Alan made calls, Bruce and I wandered down to a pavilion at the end of the jetty.  We found a spot out of the sun and relaxed for a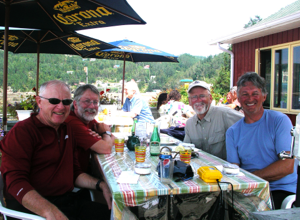 while, then rejoined Alan and Gaetan.  Always one to be looking for a good meal, Alan suggested we have lunch at the restaurant, which was about to open.  We considered it a great idea and spent almost an hour eating and relaxing before heading out for the short trip back across the fjord to Anse aux Petites Iles, our camp for the night.
The landing at Anse aux Petites Iles was the usual rocky stretch of boulders over which we needed to carry our emptied boats.  We had only been able to reserve three platforms at this site because sites one through three had been reserved by others.  As we landed, we spotted three young men lounging on one of the platforms with their gear spread out on the other two that were visible.  These guys had quickly left our last site, dragging their rented plastic boats over the boulders to reach the water, without saying a word to us as we landed.    Today, they looked up briefly, then went back to their card game, again without a word. 
As we began carrying our gear into camp, two large double kayaks approached.  A short but stocky and rough looking individual approached the young men and began shouting and gesturing in French.  This was Bernard, a guide, who had reserved the first three platforms for his paying clients.  He was not happy with these guys who were poaching the sites and hoping that no one would know.  He ordered them to leave immediately, which they protested, wanting to finish their card game.  Bernard convinced them that they had better leave at once.  I think he would have picked them and their gear up and tossed them into the fjord if they hadn't moved quickly enough.  Gaetan told us that the boys were French nationals.  Interestingly, there seemed to be no love lost between the French speaking Quebecois and the folks from the mother country. 

Still worked up over his confrontation with the Frenchmen, Bernard turned his attention to us, making sure that we were not taking any of his coveted platforms, and announcing that he would be using the only picnic table exclusively for his clients.  This did not sit well with Bruce who was ready to go have it out with Bernard (no matter that even though Bernard was about Bruce's height, he was about twice Bruce's size and looked like he could easily wrestle a bear).  Gaetan, with our support, spent some time talking Bruce into letting him talk to Barnard. 

Eventually Bruce calmed down and Barnard became friendlier, offering us appetizers he had brought for his clients and useful information about conditions on the rest of our trip. 
We never did get to use the picnic table, but we improvised using a corner of Alan's platform as a cooking and eating location. 
Barnard's rationale was that his clients had paid a lot of money for the trip and he needed to offer them every comfort.  His rationale made sense from his perspective, but the watertrail facilities are open to all who reserve them, and they are intended to be shared by all.  Our revenge was to make about a hundred trips to our boats, walking through Barnard's site and close by the picnic table each time.
Bernard had arrived in two large composite double kayaks.  They were big and heavy.  We wondered aloud just how he was going to lug them ashore, as his three clients were a small woman and a very out of shape husband and wife. (The husband would grunt every time he struggled to pull his weight up onto the tent platform.)  Bernard's solution was ingenious.  He tied the two boats together at the end of a very ling rope and gradually pulled them ashore as the tide came in.  They would occasionally bump or rub on rocks, but for the most part, floated ashore unscathed.  We wondered how he would have handled it if there had been a significant on-shore wind.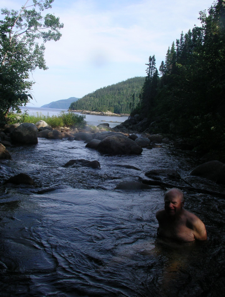 The campsite platforms were strung along a roaring stream, the biggest we had camped near.  Best of all, the water was warm enough to get into.  We speculated that it flowed out of a lake or pond somewhere above us where the water had time to warm up some before plunging into the fjord.  I scouted around until I found a pool deep enough to submerge my whole body in.  It was heaven!  I spent a long time just soaking there.
Because we were short one sleeping platform, two of us had to double up.  This either put two guys in one tent or two tents on one platform.  We opted for the latter.  Bruce and I had the smallest tents so we tried to shoehorn our two tents on one twelve by twelve foot platform.  By placing one side of each tent against the other, we just managed to get both tents up and in place, though we hoped for a dry and windless night.
While the tent platforms at this site were older and smaller than the platforms at camps further north, they were well constructed.  One excellent feature found at all the camps was the placement of a lightweight cable, passed through screw eyes and tensioned with a turnbuckle, around the circumference of each platform.  This provided us with an abundance of secure places to tie off our tents and rainflys.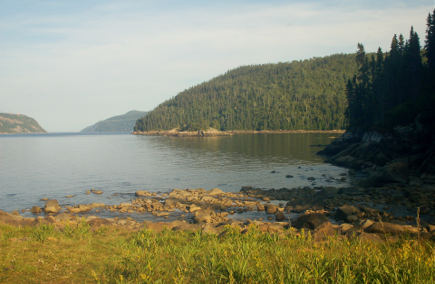 and head back to Quebec City.  I made my usual journal entries and read a bit before falling asleep to the sounds of the stream roaring by behind my head.  It had been a full and a good day.