My brother-in-law, Gary Richer is an avid mountain climber.  He lives in the Seattle area and climbs big mountains. (I call him "Mountainman") He always sends trip reports and photos of his adventures.  I find the stories and pictures so interesting I tell him he should do his own website.  Last year he went to Africa to climb Kilimanjaro.  This year it is Argentina and the 22,841 foot Aconcagua.  Here is his initial report emailed home after coming off the mountain.

Gary's Report:

Well, we finally made it back from Aconcagua. We did not make the summit but we did pretty well. This was quite a work out both physically and mentally.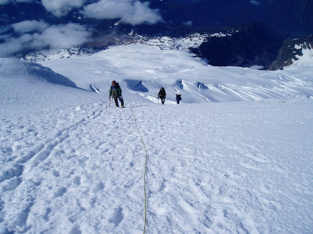 Our main group consisted of Sean, Erik, an Argentinean, our guide and myself. We did have some others join us on the journey up but they were still mostly responsible for themselves - they included a couple of Iranians (now living in Canada), an Israeli, and some other Argentineans.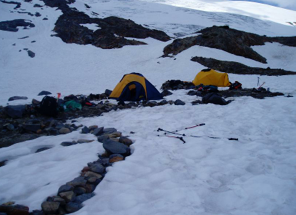 Martin, the Argentinean dropped out at the 17,000 foot level due to altitude problems affecting his health. The rest of us made it to the final high camp at 19,000 feet. Try carrying a full load on your back with minimal oxygen...very exhausting. We got up early the next morning and had a quick breakfast for the start of a long day for a summit bid.

I made it to 20,500 feet and was totally exhausted. It was taking a lot of effort just to work on my crampons. I was also starving - our break-fast only consisted of a small amount of oatmeal. Surviving on energy Gu and candy bars was not cutting it. Usually going down is pretty quick and easy but I was so exhausted it took quite awhile to get back to high camp. At one point I sat down in the snow to rest and fell asleep for a couple of minutes....not good. When I woke up everything was blindingly bright - very weird view. I got up and forced myself to just keep going. I ran into a Russian team camp near our site and they checked to make sure I was ok...I was fine but totally spent.

I made it back to our tent shortly after that. Our Israeli friend also checked on me and made sure I was set up for rest, food, and water. I at least made my original goal of topping out over 20,000 feet and made it higher than Denali....not the gold medal I was hoping for but bronze was ok for that day.

Erik made it another 500 higher so he hit the 21,000 foot level. He was totally exhausted too and it took him awhile to get down. He also stopped to rest and a Russian team that had also turned around came across him...told him to get moving and get down to camp. He made it down fine but had an eye edema and burst a blood vessel....he has blurry vision in one eye but should be ok.

Sean, who was almost told he couldn't make a bid for the summit because the guide didn't feel he was doing well, rallied and made it the farthest. He still had 2.5 hours and another 1200 feet to go to make the summit but the weather was turning bad so he and the guide turned around at that point. The weather was forcing all teams down. Just after they turned around Sean blacked out and took a tumble. He was ok but just totally exhausted. The guide was yelling at him to keep moving so they could get down quickly. They arrived back at high camp under white-out conditions but were ok.

The weather for the rest of the night was very windy, cold and snowy. It was so cold in the tents that frost was building up on everything and when the wind shook the tent we were showered with the frost. The next morning was clear and we headed back down. The trip down to base camp at 14,500 took a good part of the day....but good food and drink were awaiting us. We spent one last night at base camp before trekking to our pick up point the next day. That trek was 14 miles with another 4500-foot elevation drop. Our guide knew the park ranger so we got picked up and avoided having to hike the last mile....some may call that cheating, I call it awesome.

 We stopped for beer and food on the way back to Mendoza.... best beer I ever had!!! It was dark by the time we got going again. We were all feeling pretty tired but happy to be out of the mountains. As we were riding back to the city someone asked me if I wanted an oxycotin. Having been satiated by food and beer, Pink Floyd was cranked up in the van, and I could see the Southern Cross in the night sky....I responded, naw....everything is just fine.