After Ruth, Frank and Don paddled off to finish the length of Lake George, Alan, Karl, Phelps and I headed east over to the rocks that Frank mentioned were owned by a conservancy.  There was a great jumping off ledge and a rope hanging to the water.  Karl was trying to figure out how to get out and try the jump.

 For us the day continued as it started, a great paddle south back to the St Sacrament Island campsite with stops on Mallory Island and a beach just south of Silver Bay on the west side.  I think we got back to St. Sacrament about 4:30.  I really enjoyed the last hour on the water, skirting in and out of the islands, the water was like glass, the sun raking low over the mountains and the fall colors were rich, tinged with the warmth of the late autumn sun contrasted against the deep purple sky.  For supper Alan made linguini with a sort of Alfredo sauce with crabmeat and broiled up a pile of scallops, served of course with a nice Pinot.  Another great meal by the master chef.  We had a nice fire and Phelps joined us for yarns, tea and chocolate.

 Monday morning we were on the water by about 10 am.  We might have started earlier but Alan wanted to make omelets for breakfast.  I'm lucky that I fit back into my kayak. We woke to a strong steady wind from the south and grey skies.  It wasn't cold but the wind looked like it might slow us down a little.  But by the time we got going the wind died down.  We stopped at Hen & Chickens Island and then at a beach near Camp Chingachgook for lunch.  Phelps was interested in a boat on the beach that looked like a surfing kayak with a pontoon.

 We stopped on the south end of Long Island for a break and then the last leg back to the Million Dollar beach launch.  It was getting late, I was a little tired, there wasn't much in the way of conversation.  The cars were still there, the only problem was all the sand we picked up unloading.  Karl and Phelps headed off for Vermont and I was home by 6.  Alan still had another three or four hour drive to PA.  I figured we averaged about 20 miles a day paddling.  It would have been nice to reach the north end of the lake.  Next time.

 All in all a great three-day paddle, great weather, great water, beautiful scenery, and best of all a great group of paddlers.

        Bruce

A Rogue's Gallery of Lake George Paddlers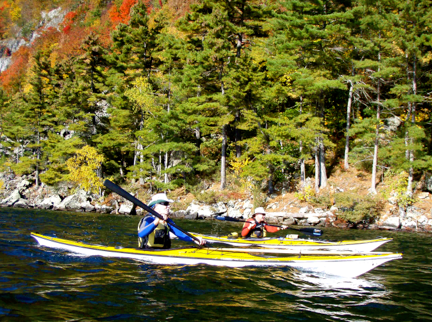 Frank Montbriand and Don Yackel (Yackman) on Lake George.

Photo by B. Romanchak
Alan Lovgren, Phelps Holloway and Karl Riemer on Lake George.

Photo by B. Romanchak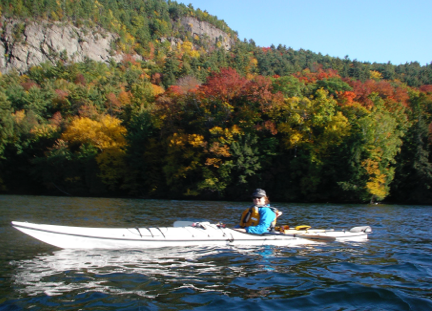 Ruth Miller on Lake George.

Photo by D. Yackel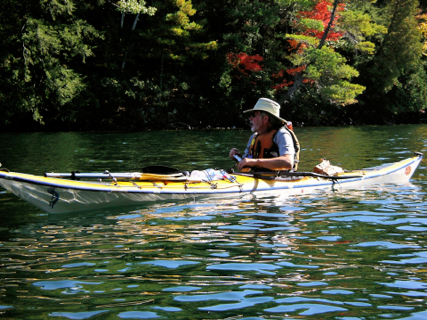 Bruce Romanchak on Lake George.

Photo by D. Yackel